Thu, Mar 19, 2015• 10:00• Natural Living & Health
The Benefits of Natural Cologne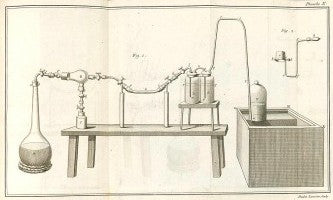 When you walk out the door wearing natural cologne, it's likely you'll feel better. There's a sense of awareness, walking the steps to work, the lengthy miles in the hustle and bustle of unwarranted traffic. But with a touch of that cologne, the grass seems greener, the trees seem fuller, and maybe that girl you've had your eye on is looking right back at you.
It's no wonder cologne has been around for just over three centuries. While perfume traces back to the earliest civilizations, Eau de Cologne originated in Cologne Germany in 1709 (mixed expertly by the Italian-born Johann Maria Farina).
As revolutionary as the product was, it was simply a mix of citrus oils, other natural oils and ethanol alcohol. Modern cologne is lighter in concentration like that of an "eau de toilette" or "eau de parfum", there's something to be said about harkening back to the age of natural cologne.
But what exactly IS the benefit of a natural cologne? In actuality, there are multiple benefits. These days, a lot of colognes contain chemicals that are toxic. Tricyclodecenyl allyl ether, for instance, is found in certain colognes and perfumes and happens to have insect repellant properties. Articles from the Scientific American highlight the use of petrochemicals, a chemical product derived from synthetic chemicals such as petroleum or natural gas. What is even more disconcerting is the fact that chemicals that are known to cause harm are not always listed on brand name fragrances. For those who suffer from allergies, this is a major blip on their radar; imagine having a skin reaction or respiratory distress and not knowing what caused it.
Another danger in a non-natural cologne is the impact on the environment. Synthetic musks, for instance, are used in fragrances, colognes, and even to mask the odor of laundry detergents. Unfortunately, as inexpensive as it is to manufacture synthetic musks, the chemical product have been found in both human fat and milk as well as water and sediment.
Inversely, natural colognes eliminate many of the environmental and health problems associated with synthetic chemicals. Many companies like Dr. Squatch use naturally sourced products which is a great benefit to the environment. And the ingredients of our cologne sound familiar. In Driftwood and Hemlock, for instance, we use Almond Oil and Jojoba Oil. As natural as these items are, they create a great base that allows us to add other natural ingredients including essential oils of sandalwood or cedarwood, basil or sweet orange.
If the idea of going a la natural isn't enough, natural cologne offers more than just a green conscious. Cologne is that little extra something in the morning that kicks you in your heels. You're confident and happier because pleasant smells reduce stress. If you know you don't stink, then why worry? If you smell great and you're confident, people will take notice. A good scent and a strong handshake will give others notice. Women will take a sniff and eye you across the room. And by the end of the day when you're exhausted and on the way home, you know that no one will pinch their nose and crab step aside. Instead, you'll be able to smile and nod before looking up at the trees, knowing you've done a good thing today.
Get your hands on some Dr. Squatch natural cologne here.
Duedahl-Olesen L, Cederberg T, Pedersen KH, Højgård A (October 2005). "Synthetic musk fragrances in trout from Danish fish farms and human milk". Chemosphere 61 (3): 422–31. doi:10.1016/j.chemosphere.2005.02.004. PMID 16182860.
Related Posts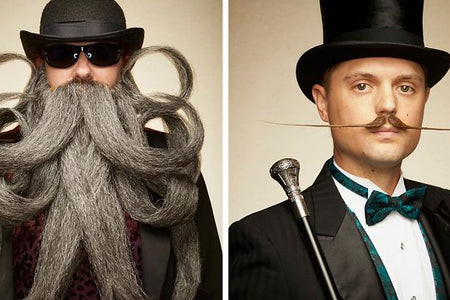 Mon, Sep 18, 2023• Squatch Men: Lifestyle
In case you missed it, the World Beard and Mustache Championship is a thing and it's every bit as f-ing glorious as you can imagine. Every year, be...
Read More
Recent Posts