Wed, Nov 08, 2017• 00:30• Squatch Men: LifestyleUltimate Guides
Dr. Squatch 2017 Holiday Gift Guide
Note: Dr. Squatch recommends leaving this guide conspicuously open on all devices where might rate on the "buy a gift" list 😉
For Someone Who Works With Their Hands
Dr. Squatch Pine Tar Soap cuts through grease, grime, sap, and anything else you throw at it.
For Your Hostess With The Mostess
Help your best bud throw the party of the year with the Gravity One Bluetooth Speaker
For The Sports Enthusiast
Because you can only spend so much time on your phone… and let's be honest, your short game could use some work. 
For The Winter Adventurer
Whether you're snowmobiling, ice fishing, igloo making, or skiing, keep your hands toasty for 12 hours with this Zippo warmer.
For Your Hair Idol
Gift them with our Dr. Squatch Hair Care Kit, which offers natural hair care for even the pickiest hair washers.
For the Person Who Has Everything — And Reads Everything
Squatch likes knowing he can keep even the most horrific of horror stories safe on the bookshelf, safely sandwiched between two ferocious sharks
For Your Friend Who's Obsessed With His Facial Hair
Get that friend the Bear Cob from Huntsman Beard Co. made of sandalwood, it pairs perfectly with our Driftwood cologne used as a beard oil.
For The Outdoor Chef
The ultimate accessory in campfire cooking will have you feeling like Anthony Bourdain. Throw anything into this dutch oven and it comes out a masterpiece.
For Your Favorite Person Of All Time
With a 35mm equivalent f1.7 lens, you'll get crisp images from near or far. Think of all the sick shots you'll (we mean your favorite person…) will be able to capture with this guy.
Related Posts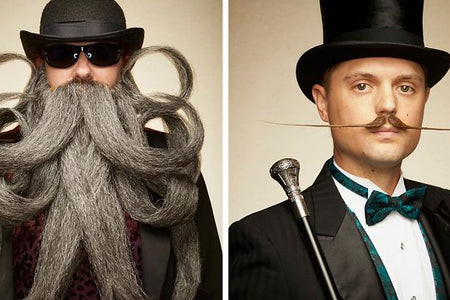 Mon, Sep 18, 2023• Squatch Men: Lifestyle
In case you missed it, the World Beard and Mustache Championship is a thing and it's every bit as f-ing glorious as you can imagine. Every year, be...
Read More
Recent Posts