Wed, Jan 10, 2018• 00:30• Natural Living & Health
Why Dr. Squatch uses essential oils
Let's get honest. We all know chemical fragrances last longer than natural ones. Who can forget that floral scent-in-a-can their grandma kept in every room? Essential oils do so much more than scent our soap, and we're committed to using natural scents that deliver healthy benefits along with smelling amazing.
Dr. Squatch focuses on natural ingredients
We believe in the power of natural ingredients. We've talked before about why we think natural soap helps both your skin and the environment. Our oil-blend base and exfoliants are natural, but we don't stop there. We scent our bars with either natural blends of oils or essential oils themselves.
Why we don't use manufactured fragrances
We understand essential oils don't stay on your skin for as long as some of the commercial products you've tried in the past. Believe us, we love the way our soap smells and wish we could keep that just-from-the-shower scent all day long. But the reason those chemical scents last has to do with how they're made. Many of them contain petrochemicals, which are created in a lab and contain petroleum or natural gas bases. That means those petrochemicals get absorbed into your skin and have to be filtered out by your kidneys. We said a big "no, thanks," to that.
What exactly is an essential oil?
Essential oils are concentrated phytochemicals, not petrochemicals. The quick explanation is that they're oils distilled from plants. Phytochemicals are better for our environment and better for our bodies. In fact, many essential oils have health benefits — including the ones we use in our Dr. Squatch soap.
What about the "fragrance" ingredient? 
We receive questions about the "fragrance" ingredient listed on some of our bars. We have a few scents — hello, Gold Moss! — that required us to get creative with blending scents together to find the perfect balance. Those blended scents are still sourced naturally, but the combination we use stays locked in our Top Secret Dr. Squatch vault, because we spent a bunch of time creating a scent unique to our soap.
Benefits of essential oils Dr. Squatch uses
In case you're looking for a specific benefit of an essential oil, we put together a quick reference of the oils we use and the bar or bars that contain each oil. Our colognes also rely on essential oils for their scents!
Do you use essential oils in other parts of your life?
Related Posts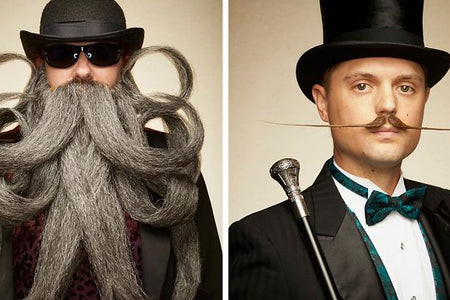 Mon, Sep 18, 2023• Squatch Men: Lifestyle
In case you missed it, the World Beard and Mustache Championship is a thing and it's every bit as f-ing glorious as you can imagine. Every year, be...
Read More
Recent Posts