Tue, Jun 11, 2019• 03:00• Squatch Men: Lifestyle
The Do's and Don'ts of Wearing a Suit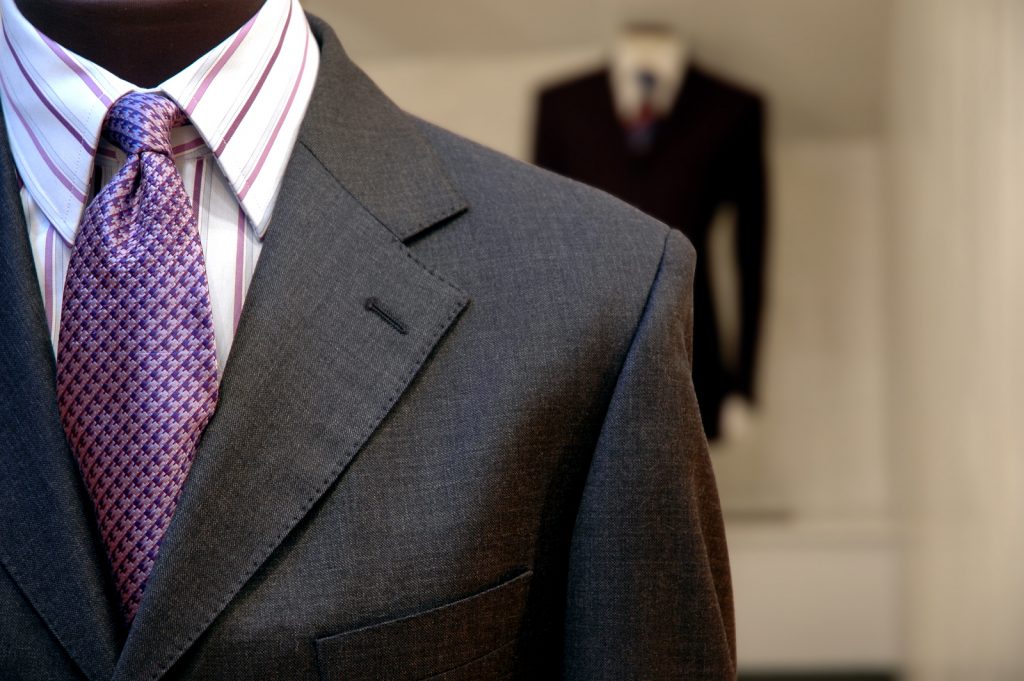 When a well-dressed man walks into a room, he commands attention from everyone. That starts with his suit and then continues to the man. All of us want to have that perfect suit that makes us the envy of other men, but most don't have a clue where to start.
We're here to help. On this page, we will give you the basics of picking the perfect suit and how to wear a two-button suit. We'll also give you some tips for achieving a killer look while telling you which suit mistakes to avoid. For more helpful lifestyle tips, check out the Dr. Squatch blog.
Picking the Right Suit for Your Body
Back in the day, most men picked a suit based on function. Some may have only owned a single suit he used for special occasions. The style and the fit didn't matter because they seldom wore it.
Things have changed over the years, and for many men, a suit is a regular part of their wardrobe. Suits are more than functional. They are a fashion statement. The first step in wearing a suit is picking the right suit for your body type. Your suit speaks about who you are, and the right fit helps to communicate who you are as a person.
Skinny – If your body is similar to that of David Tennant (Doctor Who, Jessica Jones) or Doug Jones (Star Trek Discovery), then a skinny suit is your best option. For skinny suits, you're looking for one that fits like a second skin.
Keep in mind that this suit is going to draw attention to your body type, so don't pick this style if you can't pull it off. The suit should sit flush with your shoulders and fits normally without stretching in any places. Don't go a size down to make it look skinnier. Stick with your normal size.
Slim – These are a good choice for men on the trimmer side, but slim suits aren't nearly as form fitting. You still want a suit that fits flush with your shoulders, but the rest of the body has a little more give and room than with a skinny suit.
Slim suits give your body a bit more shape than skin-hugging skinny suits and also give you a longer appearance. These are good suits for making a strong first impression, such as a job interview, or for occasions like weddings or funerals.
Regular Suits – This is your classic suit that will look as good in 10 years as it does now – provided you pick quality fabrics. For these suits, you want a jacket whose collar sits flush with your shirt's collar. It should allow for movement without rising up too much. It should also make your shoulder look a bit broader.
This is your everyday suit that's best suited for average body types. It's perfect for the office or dressier activities. A regular suit is perfect for those who don't want anything overly complicated. Complete the classic pattern with a patterned tie and shiny black shoes, and you're good to go.
When to Go With a Custom Suit
There are times where your best option will be to go with a custom suit, especially if you fall into the Big and Tall category. Larger men are typically stuck with a limited selection of suits at most retailers. Also, most suits for big men are fitted for stockier men. This leads to suits being too big in more than one area, typically the shoulder and the arms.
Big and Tall doesn't necessarily mean overweight, but it also applies to those of us who are disproportionate when compared to what's considered the norm. Men who are over 6′ 2″ often find it challenging to shop for suits in most stores.
There are other times where you want to consider a custom suit. Shorter men usually have difficulty shopping for suits due to arm and pant leg length. If you happen to have longer arms or longer legs, you'll also have trouble finding suits that fit well.
In all of these instances, the services of a professional tailor or suit maker may be the best choice for buying a suit. The tailor can take your exact measurements and make a suit that's suitable for your exact body type rather than forcing you to conform to what's generally on the rack of most retailers.
Best Ways to Get that Polished Look
Once you have a suit that fits your body type, it's time to polish off that look. Below are a few ways to achieve a polished look for your suit.
Wear a Sleek Undershirt – If you're prone to sweat or will be in areas that make you sweat, it's a good idea to wear a sleek or sweat-proof shirt. This will help prevent sweat stains on your dress shirt and suit coat and may help keep in that body odor. This is particularly recommended if you're regularly in close quarters with others, such as an office meeting.
Wear a Darker Tie – Most of you will wear light-colored dress shirts with your suits. It's always the best idea to wear a tie that's darker than your shirt.
Stay Away from Loud Ties – While loud ties can convey that you're a non-conformist, they're usually not appreciated the same way by others. If someone takes a look at your tie and winces, it's too loud.
Shoes and Belt Should Match – For a more uniform look, make sure your belt and shoes match. It's a simple trick that makes you look like you know what you're doing.
Wear Long Dress Socks – Wearing short socks is a big no-no for a suit. Nobody wants to see your legs, so wear long socks for when your pants legs decide to hike up a bit.
Get Your Tie Game on Point – Make sure that your tie is the proper length and you're tying it right. It should fall no lower than your belt buckle. Also, work to create the perfect dimple for your tie. It should not be misshapen or uneven. Practice until you get it right.
Do's and Don'ts for Wearing Your Suit
Now that you've got that polished look down, it's time to show off your killer look. Here are a few tips on how to wear a two-button suit.
Buttoned While Standing – Walking around with your suit unbutton is considered sloppy. Make sure you go buttoned while standing.
Unbuttoned While Sitting – When sitting, you need to open the jacket up. One, it looks more natural. Two, you don't risk ripping off your jacket button.
Button the Top Shirt Button – You dress shirt should fit well enough where you can button your shirt at the top. This gives a crisp, clean look. If you cannot button the top button, either invest in a shirt with a larger collar or go for one with an expandable top button.
Shoes Should Compliment Suit Color – Pick a pair of shoes that complement your suit's color rather than contrast it. It doesn't have to match perfectly, but you don't want to have white shoes with a dark suit. That's way too much contrast.
Pick Opposite Colors for Pocket Squares – If you choose to use a pocket square, make sure the color is a direct contrast to your suit. That means light colors for dark suits and dark colors for a light suit.
Pick Suspenders or Belts – If you need help keeping your pants up, pick either a belt or suspenders but don't do both. For suspenders, stick with thinner straps as they may help you appear a bit leaner.
Many men go through life wearing suits and not realizing they're doing it wrong. Below are suit mistakes to avoid:
Buttoning the Bottom Coat Button – Conventional wisdom tells us we should fully button up our suit jackets like everything else. However, the bottom button is there for aesthetics only and should be left open.
Clip-on Ties – Avoid clip-on ties. They often are not long enough and are not large enough to stay under the shirt collar properly. Plus, it is a bit embarrassing if it happens to fall off.
Baggy Anything – We already talked about finding the perfect fit for your body type. Some of you like wearing baggy pants or baggy shirts. Don't do that with your suit; it just makes you look sloppy.
Wearing Super Wide Tie Pins – If you wear a tie pin, it should not be as wide as the tie. It should be no more than three-quarters the width of the tie.
White Socks – White socks, especially gym socks, are a big no-no for suits. They look bad, and in the case of gym socks, they can make your feet smell.
Wide Ties – Unless you want to look like you stepped out of the 80s, stay away from wide ties. Thinner ties look sleeker and make you look a bit smaller.
Over Accessorizing – There's a time to be stylish and flashy, but it's not when wearing a suit. More than one or two accessories is overkill and takes away attention from your suit.
Make a Statement Without Saying a Word
Much of life is all about making the right impression. When you enter a room, what you wear can speak volumes about who you are as a person. By wearing a stylish suit and avoiding the suit mistakes listed above, you're presented as a man who has his act together and knows what he wants out of life. With proper attire, people will begin to form a positive impression about you before you even say a word. The most successful men in the world know that the right suit can open doors. Thanks to this guide, you have the knowledge necessary to have those same doors start opening for you.
Related Posts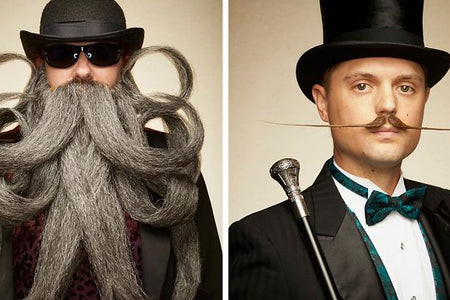 Mon, Sep 18, 2023• Squatch Men: Lifestyle
In case you missed it, the World Beard and Mustache Championship is a thing and it's every bit as f-ing glorious as you can imagine. Every year, be...
Read More
Recent Posts