Wed, Dec 14, 2016• 00:30• The Great OutdoorsUltimate Guides
50 Mountains to Ride Before You Die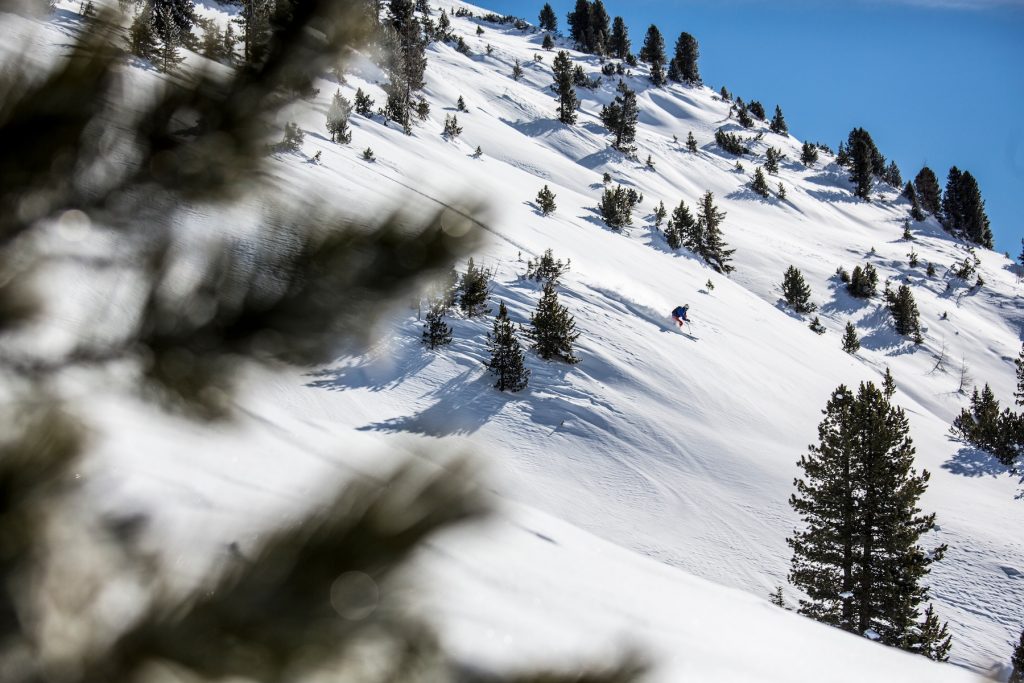 For the wintersports adventurers and globetrotting powderhounds, for all of you who chase the white stuff, everyday there's a fresh powder day somewhere on the planet. Scouring the world in search of snow, from the Maloti Mountains of Lesotho to the Himalayas in Nepal, this list is as much about unique experiences as it is about fresh lines, so here are our 50 mountains to ride before you die.
North America
–
Whistler Blackcomb, British Columbia
What better place to start than the biggest ski resort in North America, the unbeatable Whistler Blackcomb, which lies at the southern end of the enormous Coast Mountains range. Between the two mountains of Whistler and Blackcomb, there are over 8,000 hectares of terrain to shred, so you're not going to get bored here…
–
Mammoth Mountain, California
If you're looking for snow in California, look no further than Mammoth Mountain, where over 10 meters of the white stuff falls each year! At 3,368 meters it's the highest peak in the Golden State, with some serious steeps and chutes for advanced skiers, not to mention a sick terrain park for big-air snowboarders.
–
Mount Bachelor, Oregon
Volcanoes and skiing aren't words often used in the same sentence. Mount Bachelor bucks that trend because there's plenty of snow on the north face of this stratovolcano in Oregon's Cascade Range. In fact, this place enjoys one of the longest ski seasons in the States, and has a phenomenal terrain park (that's why Winter Olympic athletes train here).
–
Big Sky, Montana
The clue is in the name of this place… Head straight up to Lone Peak where you'll be 3,403 meters high into the sky and have the gnarliest terrain on the mountain ahead of you. The entire interconnected ski area here covers 5,800 acres, making it the biggest in the United States, so get stuck into it!
–
Grand Targhee, Wyoming
In the Teton Range of the Rocky Mountains lies Grand Targhee, where deep powder reigns. If you want to try cat skiing this is the place to try, with around 1,000 acres reserved for off piste riding. You'll be driven deep into the backcountry where you can turn between the trees.
–
Red Mountain, British Columbia
Nestled within the Monashee Mountains range, this place has a long ski heritage, first being used as a ski hill back at the very start of the 20th century by the Red Mountain Ski Club. It's renown for it's light and dry powder, and with over 4,000 acres of terrain you're sure to ride fresh lines.
–
Telluride, Colorado
The San Juan Mountains are home to a whole bunch of 13,000 and 14,000 foot peaks, and this is where you'll find Telluride. The lift-serviced vertical drop at this mountain resort is a very impressive 3,845 feet, and thanks to it being way-out-the-way it rarely suffers from crowds!
–
Kicking Horse, British Columbia
In the Purcell Range at the southern end of the Columbia Mountains lies Kicking Horse, a favorite destination for big mountain snowboarding and free-skiing. The off piste here is awesome, but if you're looking for something a little easier give the 'It's a Ten' run a go. It's a beginner slope that's ten kilometers long!
–
Powder Mountain, Utah
Welcome to the largest ski area in the United States, Powder Mountain, or Pow Mow for short. Let's start with some vital statistics… over 8,400 acres of terrain, almost 13 meters of annual snowfall, and a maximum of 2,000 riders on the mountain per day. Just don't expect too many lifts, because this place is all about #preservingthepow
–
Jackson Hole, Wyoming
Jackson Hole has a reputation, and rightly so, with adrenaline junkie skiers and snowboarders traveling from across the world to take on the insane steeps and sheer vertical drops. If you haven't been out on a mountain for a while be prepared for some scary moments, even the intermediate runs are tougher than you'd expect!
–
Big White, British Columbia
With a name like Big White you know the snow is going to be good here. Over seven meters of soft powder falls each year and there are some seriously gnarly double black diamonds runs for extreme riders. Another great thing about this place is the resort, practically all the accommodation is ski-in ski-out!
–
Alyeska, Alaska
Alaska isn't all heli-skiing, not when you throw Alyeska into the mix. Located in the Chugach mountain range it's got deep snow and steep terrain, like you'd expect in Alaska, but it's lift-accessible so there's no hefty helicopter price tag. There are also some expert chutes and bowls if you take a hike from the lifts.
–
South America
–
Cerro Catedral, Argentina
Offering the biggest ski terrain accessible by lifts in the whole of South America, Cerro Catedral is also in the stunning Patagonia region. Backcountry riders will love this place as half of the terrain is off piste, with awesome tree sections and bowls. On a clear day the views of Lake Nahuel Huapi are breathtaking.
–
Valle Nevado, Chile
Ski the Andes in the foothills of the 5,434 meter Cerro El Plomo, in a place that literally translates to 'Snowy Valley'. The name isn't just for marketing, snow from the surrounding mountains is actually blown into the valley, while other nearby ski areas are left patchy. It's super-consistent for those seeking fresh lines and features the most modern lift system in Chile.
–
Cerro Castor, Argentina
Opened in 1999, this is the newest ski area in Argentina (for now), and it's also the most southernmost ski resort in the entire world. The stable cold temperatures help keep this place open longer than anywhere else in the country, and you can thank the freeze for the amazing powder you'll find here too.
–
Nevados de Chillan, Chile
Ancient lava rivers have created some truly unique mountain terrain at Nevados de Chillan, and with over 10 meters of snow each year this terrain turns into a backcountry skiers dream. It's like a natural terrain park, and an added bonus to the après-ski scene here is the natural hot springs to soothe those aching legs!
–
Las Leñas, Argentina
Hardcore skiers and boarders love this place, because after it's been dumping for days the natural terrain is up there with the best in the world. It's all about big mountain style here, from cliff jumps to huge lines, near-vertical chutes and deep powder turns. It is the Andes Mountains after all…
–
Portillo, Chile
If you could only choose one place to ride powder in Chile, it has to be Portillo. High in the Andes, it has Aconcagua as a backdrop, which at 6,961 meters is the highest mountain anywhere in the American continents. This place is all about huge steep faces and big mountain riding, with not a single tree in sight on the slopes.
–
Europe
–
Verbier, Switzerland
The freeride capital of Europe, perhaps even the world depending on who you ask, the off-piste runs of Verbier have cemented themselves in the minds of skiers and snowboarders across the world. From the top of Mont Fort at 3,330 meters you can see the Matterhorn and Mont Blanc, two of the Alps most iconic mountains.
–
Courchevel, France
If you want access to the largest connected ski area in the world, Les Trois Vallées, then Courchevel puts you in the right spot. 600 kilometers of interconnected ski runs and 160 lifts to get you up those mountains. Even if you just stay in Courchevel, you'll have everything from steep couloirs to gentle corduroy pistes to enjoy.
–
Sauze d'Oulx, Italy
In the northwest corner of Italy is a lively little mountain village that's conveniently connected to the Via Lattea, or Milky Way, ski area. The slopes above Sauze d'Oulx are more than enough to get warmed up, but the entire ski area spans across the Italian and French Alps, with runs measuring a total of 400 kilometers.
–
Kitzbühel, Austria
People haven't always skied in the mountains next to this medieval town, but most of them do now! Since the first ski race was held here in 1894, Kitzbühel has been the birthplace of many alpine skiing legends and Olympic medal winners. Home of the 'Streif', a famously steep downhill racing slope, there's also around 200 square kilometers of backcountry to explore.
–
St. Moritz, Switzerland
St. Moritz is one of the most luxurious and expensive ski resorts in the world, attracting the rich and famous since back in the 19th century. Die-hard powder addicts pass this place by in favor of more gnarly mountains in the alps, but if it's good enough for kings, presidents, and movie stars, it's good enough for you (if you can afford it).
–
Chamonix, France
Chamonix, the birthplace of the Winter Olympics back in 1924, is also the famous French commune on the north side of Mont Blanc, the highest mountain in the Alps. The Vallée Blanche offers a 20 kilometer off-piste run starting at 3,842 meters from Aiguille du Midi. Every skier and snowboarder should visit Chamonix at least once in their life.
–
Pas de la Casa, Andorra
Europe isn't all just about the Alps, there's another mountain range called the Pyrenees too. Andorra, a tax-haven principality on the French-Spanish border, is home to Pas de la Casa. This town is something else, where people come to party just as much as ski and snowboard, but after it's been dumping snow you'll see endless opportunities for fresh lines.
–
St. Anton, Austria
https://www.instagram.com/p/BMg8ar7Abeq/
As famous for its expert ski terrain as its après-ski nightlife, St Anton doesn't disappoint from any way you look at it. This charming Austrian mountain village offers everything from laid-back cruising slopes to insane narrow chutes from the summit of Valluga. The lift system here is top notch too, and some of the chair lifts even have heated seats!
–
Zermatt, Switzerland
A quintessential European ski village, Zermatt lies at the foot of the glorious Matterhorn, which you've seen every time you watch a movie by Paramount Pictures. With around 245 kilometers of groomed piste to ride there's enough to keep you busy all week, and that's before even starting on the off-piste. Oh, and you can even ski or snowboard over into Italy from here.
–
Alagna, Italy
There aren't many UNESCO World Heritage Site ski villages on the planet, but Alagna is one of them. Next to the mighty Monte Rosa, rising 4,638 meters into the sky, the mountains here are renowned for being excellent freeride terrain. The many peaks between the lined-up valleys means finding fresh lines is no problem at all.
–
Baqueira Beret, Spain
Snow in Spain? Yes, and plenty of it. This Spanish ski area enjoys one of the best spots in the Pyrenees, being on the northern side means more of the white stuff. There are couloirs for the steep seekers, off-piste between marked runs for easy powder, and almost 150 kilometers of groomed pistes. With all that, no wonder the Spanish Royals have a holiday home here.
–
La Grave, France
La Grave has something in common with Powder Mountain in Utah, it's all about the off-piste! There's only one marked piste here, so it's up to you to imagine your own lines on the mountain. Lifts will get you up there, but it's up to you which way you want to come back down. There's no shortage of hardcore skiers and snowboarders here…
–
Asia
–
Niseko, Japan
Most skiers and snowboarders say that Niseko is the best place to ride in Japan, and it's hard to argue with them. Nestled at the foot of Mount Yotei in the north of the country, the powder here is unbeatable and there's so much backcountry to explore. The forest route called Strawberry Fields should not be missed!
–
Yongpyong, South Korea
If you're looking for snow in South Korea look no further than Yongpyong, slap bang in the middle of the Baekdudaegan mountain range. It's the biggest snowsports resort in the country and a venue for the 2018 Winter Olympics. You'll find a mountain experience quite unlike any other here, with the slopes still open after midnight!
–
Mzaar Kfardebian, Lebanon
Skiing here began back in the 60s and now it's the most popular wintersports destination in Lebanon, maybe even the whole of the Middle East. The highest peak you can reach by lift is 2,465 meters and there are 80 kilometers of runs to explore. Just one hour out of Beirut, from the mountains at Mzaar Kfardebian you can see the city and the Mediterranean Sea on a clear day!
–
Yabuli, China
https://www.instagram.com/p/BDB2VVHntsB/
The Changbai Mountains are the best place to ski and snowboard in China, and their traditional Chinese name literally translates to 'Perpetually White', so you know the snow is going to be good. Yabuli Sun Mountain offers the most terrain to tear up, where you can take on a 3 kilometer downhill alpine run with a vertical drop of over 800 meters!
–
Nosawa Onsen, Japan
Wintersports were introduced here at the start of the 20th century by a visiting Austrian skier, and now those seeking snow visit from all over the world. With the average annual dump being 10 meters there's plenty of powder to enjoy, and the natural thermal springs in the village are a great way to warm up after a day out on the mountain.
–
Gulmarg, India
The Himalayas, home of the biggest mountains in the world, and a little Indian town called Gulmarg. You don't find many ski resorts in India, or the Himalayas for that matter, but this place is no novelty. After a hike from the highest lift, the summit of Mount Apharwat serves up lines with a flat-out 1,200 meters of vertical descent!
–
Annapurna, Nepal
The only entry in our list that isn't equipped with lifts to get you up the mountain, at Annapurna the only way to the top is hike or helicopter. These majestic peaks offer big mountain skiing and snowboarding at it's best, and if you only ever heli-ski once in your life, make it here.
–
Dizin, Iran
Wintersports in Iran? Would you believe that up in the Alborz Mountains lies one of the highest ski resorts in the world, a little-known place called Dizin. You can reach 3,600 meters using the lifts here and there's more than enough powder to go around. Head off-piste and you'll find plenty of untouched bowls to make fresh tracks in, just don't get stuck!
–
Kiroro, Japan
Riding the mountains at Kiroro is all about bouncing through waist-high powder while carving between the trees! It's a quiet place compared to other popular ski mountains in Japan, so there's less queueing for lifts and more fresh lines in the snow. This place also has a great setup for night skiing and snowboarding, just make sure you wear your thermals!
–
Africa
–
Afriski, Lesotho
Lesotho and the Maloti Mountains, home to the highest peak south of Kilimanjaro, the 3,482 meter Thabana Ntlenyana. Afriski occupies another part of the alpine plateau at 3,050 meters, and what it lacks in killer terrain (it has just one marked slope) it makes up for in effort and enthusiasm. See if you can find a guide here and go exploring!
–
Oukaïmeden, Morocco
The Atlas Mountains are home to the highest ski resort on the African continent, although there really aren't many to compete with! Oukaïmeden sits at 2,600 meters and the single chairlift here takes you up to the 3,258 meter peak of Jebel Attar. There isn't much in the way of marked runs so pick your line and watch out for rocks!
–
Tiffindell, South Africa
https://www.instagram.com/p/BIaKKtlAsoj/
It's hard to believe that there's snow in South Africa, and while the white stuff here certainly isn't fluffy powder, it's enough to slide on! Tiffindell is on the south slope of the 3,001 meter high Ben McDhui mountain, and is the only ski resort in the country. You won't get insane alpine steeps here, but the snow park is great for practicing tricks!
–
Australia & New Zealand
–
Falls Creek, Australia
You'll find Falls Creek in the Victorian Alps, where the snow is surprisingly good considering the highest nearby peak of Mount McKay is just 1,842 meters. There's some great backcountry and a few steep chutes below McKay, accessible with a snowcat, and the terrain park here gives everyone on the chairlift above a great view of your big tricks and hard stacks!
–
Craigieburn Valley, New Zealand
If you're looking for steep slopes and deep powder without the heli-sking price tag, welcome to Craigieburn Valley! There's no piste grooming here so be prepared for some bumps. With just three tow ropes to drag you fiercely up the mountain and a bunch of crazy triple black runs to try, beginner skiers and snowboarders need not apply…
–
Mount Buller, Australia
The slopes of 1,805 meter high Mount Buller provide plenty of fun for skiers and snowboarders from nearby Melbourne, so why not join them if you find yourself in that part of the world. There are over 80 kilometers of runs to try out, three different terrain parks to choose from, and night skiing is available too!
–
Whakapapa, New Zealand
The highest peak on the North Island, Mount Ruapehu, towers 2,797 meters high and is home to the Whakapapa ski field. All the terrain here is well above the tree line so the mountain offers plenty of uninterrupted off-piste opportunities. Advanced skiers and snowboarders should head to the Black Magic backcountry area, which is conveniently serviced by a lift!
–
Perisher, Australia
Hop aboard the Skitube, an underground railway that transports you through the mountains to the slopes of Perisher. The 2,054 meter high Mount Perisher is where you'll find the largest ski resort in the Southern Hemisphere, so if you're looking for a wide variety of skiable terrain in Australia this place is your best bet!
–
Treble Cone, New Zealand
With the highest annual snowfall and the longest vertical drop in New Zealand, Treble Cone is often the top choice for visiting powder hounds. Even the Austrian national ski team trains here! Awesome terrain, almost half of it rated for advanced and expert riders, is the big draw here, and amazing views of Lake Wanaka is the cherry on the top.
–
Coronet Peak, New Zealand
Close to the adventure tourism town of Queenstown, Coronet Peak has grown into one of the most popular mountains for wintersports in New Zealand. With just under 500 meters of vertical drop this place is an intermediate riders dream, and the two terrain parks will keep you busy perfecting those airs. The mellow rolling snowfields are also lit up by huge lamps during the night so you can get your night ride on!
–
Thredbo, Australia
Home to the longest runs and the most vertical drop in all of Australia, Thredbo in the Snowy Mountains of New South Wales is hard to beat when Down Under. Test yourself at the Funnel Web black run, cruise the classic alpine tree-lined routes, and ignore the markers for some great off-piste too.…
–
Featured image: Lukas Budimaier via Unsplash
Related Posts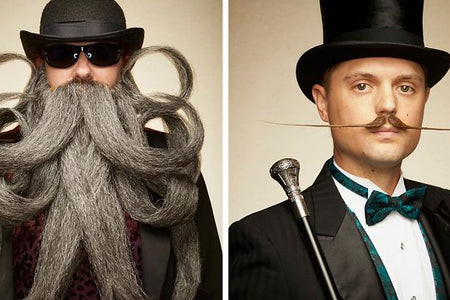 Mon, Sep 18, 2023• Squatch Men: Lifestyle
In case you missed it, the World Beard and Mustache Championship is a thing and it's every bit as f-ing glorious as you can imagine. Every year, be...
Read More
Recent Posts