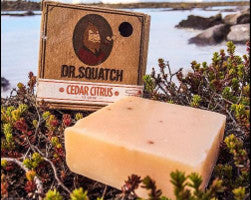 7 Fascinating Facts About Soap. #2 Blew My Mind!
Every time you shower or take a bath, the odds are you use soap to get you squeaky clean. Thank God for it! Soap, especially the ones offered by Dr. Squatch, keep us feeling  extra fresh and definitely smelling good.
While most of us can't imagine life with a bar of that heavenly goodness, soap is more fascinating than you've probably ever imagined.  Below we've included some rather intriguing facts about soap that will make you see the "smell good stuff" in an entirely different light. Enjoy!
1. SOAP DATES BACK TO BIBLICAL TIMES
A soap-like material found in clay cylinders during the excavation of ancient Babylon is evidence that soapmaking was known as early as 2800 B.C.
2. THE MOST EXPENSIVE SOAP IN THE WORLD COSTS $2,800.
A single bar of Qatar soap produced by a family-run business in Lebanon might make you think twice about washing too often. Each bar is infused with gold and diamond powder, hence, is why it's so pricey.
3. SOAP MAKING IS A BILLION DOLLAR INDUSTRY.
In 2010, the revenue generated by the soap and cleaning compound manufacturing industry in the United States was about 50.75 billion U.S. dollars. Now that's a lot!
4. SOAP MAKING IN THE USA BEGAN IN THE EARLY 1600S.
Soapmaking as a business in North America began in 1608 in the American colonies. Advances came as the science of chemistry developed, and more was understood about the ingredients. In the mid-nineteenth century, soap for bathing became differentiated from laundry soap, with milder soaps, usually formed in bars, being available for personal use.
5. THE FIRST MAJOR SOAP MAKING COMPANY IN THE USA LAUNCHED IN 1806.
William Colgate's company, started in 1806, is considered the first major soap manufacturing company in the United States. The company pioneered perfumed soap in 1866 and launched Cashmere Bouquet in 1872.  The soap is still being made today.
6. FAT IS A MAJOR INGREDIENT IN MANY SOAPS
Modern soapmakers use fat that has been processed into fatty acids. This eliminates many impurities, and it produces as a byproduct water instead of glycerin. Many vegetable fats, including olive oil, palm kernel oil, and coconut oil, are also used in soap making.
7. BAR SOAP CAN HELP WITH SKIN PROBLEMS
Many bar soaps contain glycerin, which is good for people with dermatological problems like eczema. It can even help people who just have dry skin.
FINAL NOTE…
Here at Dr. Squatch, we have our on unique way of making soap consumers will love. First and foremost, our soap has ingredients that you can actually pronounce. Non of that weird stuff!
All of our bars contain a base oil of Olive, Coconut, Hemp, Soy, and Shea Butter. In addition, the bars may contain exfoliants such as oatmeal or peppermint leaves and scented with essential or safe fragrance oils. Interested in learning more? Click here.
Related Posts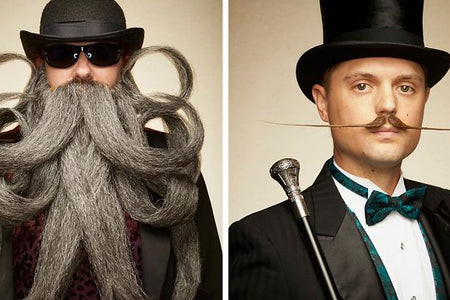 Mon, Sep 18, 2023• Squatch Men: Lifestyle
In case you missed it, the World Beard and Mustache Championship is a thing and it's every bit as f-ing glorious as you can imagine. Every year, be...
Read More