Thu, Jan 29, 2015• 08:30• Natural Living & Health
Pine Tar Soap Benefits: Not Just For Baseball

Pine tar is a substance that has been used for centuries. It has a variety of uses but is primarily used as an ingredient in soap. You may have seen it and wondered what pine tar soap is, and why it's used.
Pine soap is used in soothing treatment for skin conditions such as eczema and psoriasis; it is said to relieve itching caused by bug bites. This property alone makes it a great addition to your medicine cabinet during the warm months when mosquitoes are found virtually everywhere.
History of Pine Tar and its Soap
Pine tar soap has a long history. Its main ingredient, pine tar is used in a variety of applications.
Pine tar is a sticky substance that results from burning the wood of pine trees.
The use of pine tar originates in Scandinavia. It is used a preservative to protect wood from the harsh winter conditions as well as on the bottoms of Nordic skis.
Pine tar became an important export from the American colonies as many areas were covered in pine forests back in the day. Ropes and rigging on ships were sealed with pine tar to prevent rotting from the harsh conditions and exposure to sea water. British sailors were nicknamed "tar" for this reason. Pine tar is used on the handles of baseball bats because the stickiness of the substance lends batter griping.
Pine tar is used in veterinary medicine to treat a variety of conditions for cattle and chickens. It is used in medicinal applications as a treatment for various skin conditions as well. Pine tar has a wide variety of applications— from maritime uses, medicinal uses, to the production of soaps–and was quite the money-maker in the post-independence periods of the United States.
Pine Tar Soap: The Benefits of Use
Pine tar soap is a natural soap which has long been touted for its medicinal benefits in the treatment of skin conditions, plus treatment of dandruff.
Pine tar, as well as pine oil, has a strong pine smell; it is combined with other scented oils as well as essential oils for use on the body. It is said to have antibacterial and anti-fungal qualities and is useful to soothe and treat symptoms of poison ivy, oak, and sumac. Pine soap, is also used to treat skin conditions such as eczema and psoriasis; it relieves the itching caused by bug bites.
Pine tar is a common additive in shampoo and is used to treat the inflammation and itching of the scalp due to dandruff. Due to its pine smell, pine tar soap, is known to offer a variety of deodorizing benefits. Men are known to enjoy its fresh, pine scent. Pine tar has been traditionally associated with homemade, natural soap-making.
Pine tar soap and shampoo has also been proven effective in soothing psoriasis and eczema, easing inflammation of the body, while offering a cure to itching associated with bug bites. It also makes for an excellent choice as soap for men.
Traditional Use in Soap
Pine tar has been a commonly seen ingredient in soaps, spanning hundreds of years. It is still used today, especially in natural soaps.
Pine tar and pine oil has long been used in soap. It can be irritating to some people: mixing it with the fats and other oils found in soap dilutes the pine tar and pine oil so it does not cause irritation.
Black soap is a very different product. It is made from coal tar and used to treat dandruff, kill lice, and treat similar skin conditions to pine tar.
Black soap made with coal tar is said to have analgesic properties, soothing the itching and burning sensation associated with common skin conditions. Pine tar soap and black soap are not the same product, but offer similar uses. Coal tar is said to have an unpleasant and strong odor that can be covered up with essential oils.
Other Uses of Pine Tar Soap
When combined with other ingredients, pine tar can be used for many applications for the skin and hair. No feminine scent here! Pine tar and pine oil can be used with ingredients such as oatmeal, another natural substance that soothes the skin, and adds mild exfoliating properties. It is effective in soothing the inflammation, skin, scalp and itching due to dandruff.
You can find pine tar in natural soaps with other natural ingredients. Pine tar is a natural substance that does no harm to the environment. So when you use Dr. Squatch's Pine Tar it will make you feel good all over.
Article Image credits: 
Source: Personal Trainer Pioneer
Related Posts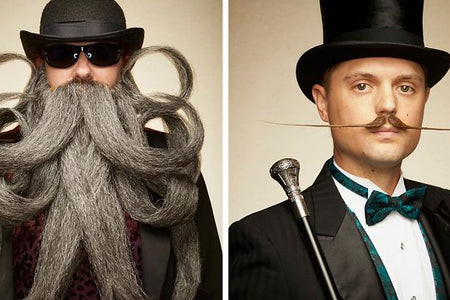 Mon, Sep 18, 2023• Squatch Men: Lifestyle
In case you missed it, the World Beard and Mustache Championship is a thing and it's every bit as f-ing glorious as you can imagine. Every year, be...
Read More
Recent Posts