Fri, Jun 05, 2015• 10:00• Ultimate Guides
Top Fathers Day Gifts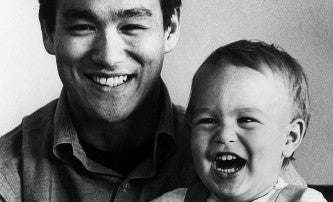 The celebration of Father's Day is a fine thing. What isn't so great is the brain fog that sweeps over many of us when it comes to figuring out exactly what to give him to show just how much of an awesome guy he is. Choosing the perfect gift for your pops sure ain't easy, but here at Dr. Squatch we've put our heads together to come up with ten top fathers day gifts that your old man is sure to love.
O'Douds Original Pomade
What dad doesn't want to look suave on Father's Day, and with O'Douds Original Pomade that's exactly the gift you can give. Apart from sporting a dashing hairdo, your pop's mane will also be nourished by the lashings of jojoba oil added to this pomade, so it's a win-win. $14 here.
Woolrich Austin Potter Slippers
Distinguished footwear with a warm fleece interior, Woolrich Austin Potter Slippers have a solid sole and a soft leather and wool upper, making them comfortable enough to plod around the house in and tough enough to wear in the garden too. Perfect if your father is also a grandpa. $49 here.
Komono Magnus Black Cognac Watch
A timepiece of impeccable taste, the Komono Magnus Black Cognac Watch isn't a shining chrome show-off or feature-packed digital monstrosity. This wristwatch keeps it simple with a precise Japanese quartz movement and a matt black metal case that compliments the brown leather strap perfectly. €79.95 (around $89) here.
Dr. Squatch Gift Boxes
Your dad didn't create you thanks to questionable body hygiene, and all a gentleman needs to stay fresh is a trusty bar of soap. A Dr. Squatch Gift Box of handmade natural soaps covers the essentials every guy needs to keep clean and smelling like a man should. With scents like Pine Tar and Bay Rum, soap doesn't get any more manly than this. $35 here, or for the Deluxe $74 here.
Wary Meyers Mainely Manly Candle
What's manly about a scented candle you ask yourself? Wary Meyers Mainely Manly Candle proves that candles can be manly, after all it's in the name. He'll put a stamp on his man cave with the undeniably masculine scents of pine, patchouli, balsam and musk filling the room, and the lady in his life might appreciate it too. $28.50 here.
Sertodo Copper Moscow Mule Mugs
Raise a mug of beer with your old man on Father's Day with a pair of Sertodo Copper Moscow Mule Mugs. 100% recycled copper, hand crafted and hammered, these 20 oz. mugs feature a satin polished stainless steel handle for a truly refined look. Cheers! $75 here.
Shinola Leather Bi-Fold Wallet
Every man needs a wallet, and with the Shinola Leather Bi-Fold Wallet your dad can carry his cash in style. This dollar caddy is made with premium quality leather from the Horween Tannery in Detriot, where the same vegetable-tanning process has been used for over a century. You can even add a monogram to personalize this artisanal American-made gift. $125 here.
Stance Duke Socks
Stance Duke Socks aren't any ordinary socks. Fit for a king, or a Duke perhaps, they're stitched from a merino wool blend for superior warmth and comfort. They will also wick moisture away from the skin to keep your pa's feet from giving off a whiff. $14 here.
Raen Yuma Rye Sunglasses
For the father who is an adventurer at heart, a pair of Raen Yuma Rye Sunglasses combine a classic angular frame with the latest polarized Carl Zeiss lenses. Whether they're worn in the mountains or at the beach, these shades are built to last, with wire cores throughout and stainless steel 5 barrel hinges. $160 here.
Woodnsteel Hawthorn Knife
A bespoke tool that combines practicality with sophistication, a Woodnsteel Hawthorn Knife is as strong as they come. This nifty three inch steel blade has a dark rosewood handle, comes with a thick leather sheath and is artfully handmade to order. $175 here.
Banner image: "Shared pastime" by Rosina Peixoto – Own work. Licensed under CC BY-SA 3.0 via Wikimedia Commons / Cropped
Related Posts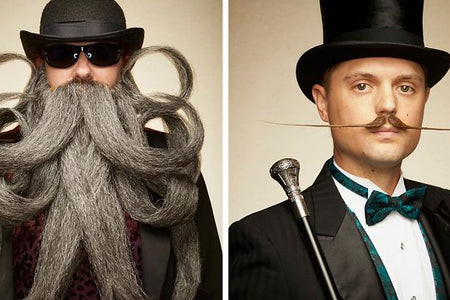 Mon, Sep 18, 2023• Squatch Men: Lifestyle
In case you missed it, the World Beard and Mustache Championship is a thing and it's every bit as f-ing glorious as you can imagine. Every year, be...
Read More
Recent Posts